Table of Contents
Nutrings
The ingredients are basically the same as for the Hazelnutmacaroons.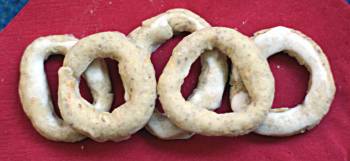 Ingredients
250g icing sugar

250g grated hazelnuts

2 eggs (only white part required)

1 orange peel (use organic)

+ incredients for the

icing
Preparation
Put all ingredients except the egg in a bowl together and stir. This time don't whisk the egg. Now form take a hand full of dough and form a thick roll, about 3cm diameter. Cut finger-wide slices and form them to long thin rolls. Form a circles out of the rolls and press at bit at the connection. Bake it at 150°C for about 15 minutes.
Afterwards make the finish with the icing.
---